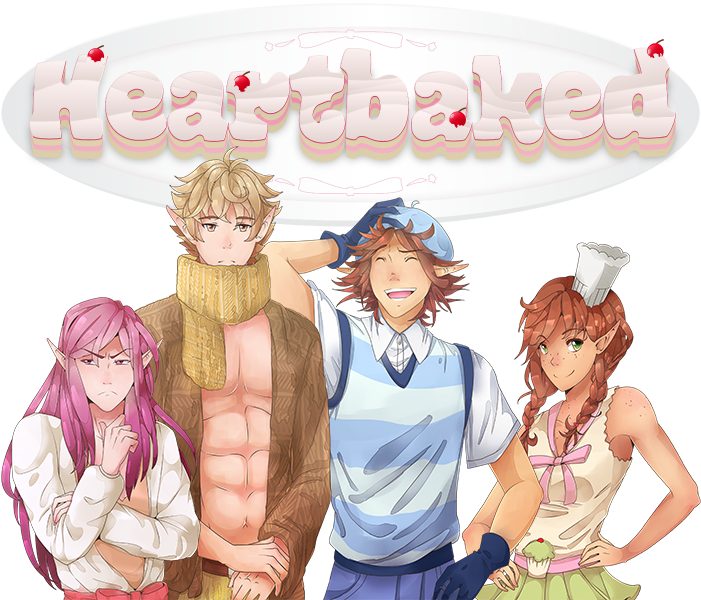 Heartbaked
A downloadable Otome for Windows, macOS, Linux, and Android
Hello everybody,

This is Averxy, one of the writers of Heartbaked. I'm very sorry to say that as of, well, awhile ago, Gourmet Visual is no longer together. There will be no more games released by us.
Heartbaked is still available to play and download of course, and we allow lets plays to be made, but if you're having issues opening the file, or if you find glitches, we will no longer be updating the game and I'm very sorry about this.
If you're interested in games by the same developers, myself and Minyan are still working together under the name "Fablesoft Studios", and Minyan is making games on her own as well.
Thank you very much for playing our game.
------------------------------------------------------------------------------------------------------
Gourmet Visual's NaNoRenO project! A visual novel in 31 days, started March 1st and completed the 31st.
Time: 5-6 hours
Short version: A comedic otome game poking fun at the genre set in an elven village whose economy runs entirely around pastries.
Long version: In a beautiful elven village hidden away in a lovely little forest, one pastry chef has just reached the last recipe in a sacred book passed down from her grandmother. Ginger has waited her entire career and quite possibly her life for this, and cannot wait to finally have created everything inside. However, the last recipe requires an ingredient that she doesn't have in her pantry. TRUE LOVE! Ginger must go on a journey to find this true love, hopefully in one of the three admittedly quirky guys she knows. One problem though- she sucks at it. Good luck.

Featuring:
+ Three boys to awkwardly attempt romance with! Around 20,000 words per route.
+ 9 endings
+ 3 CGS
+ 8 BGs
+ Original music!
The MC:
Ginger: The protagonist, whose name can be changed.
She has three possible personality types depending on player
choices, and each boy will favor a different one.

The Boys:
Radley: Ginger's childhood friend who helps around the store,
but is usually more of a hassle than actually useful due to
all of his pranks. He's a complete germaphobe
and is always seen wearing gloves.

Carver: A rude, cheap little jerk who is quite self conscious
about his height. He can be found trying to swindle
people out of pretty much anything in their pockets,
and/or finding excuses to make a mess in Ginger's shop.

Benjamin: New in town and a bit... eccentric. His greatest loves are
the two sheep he keeps with him at all times, and he
uses their wool to knit all of his clothing.
Gourmet Visual

Min: Sprite artist, Gui artist, BG artist, Writer (2/3 of Carver's route)
Oktolio: Concept artist, CG artist, Writer (Benjamin's route)
Averxy: Writer (Radley's route and 1/3 of Carver's route)
The Team
Antelope: Composer
justcolorado: Programmer

Questions:
- Did you enjoy it overall?
- What was your favorite part?
- What parts could be improved upon?
- Who was your favorite character?
- Would you like to see more games from Gourmet Visual?
- Any other random comments!

If you'd like to support Gourmet Visual, please consider purchasing the game! You can name your price.
| | |
| --- | --- |
| Status | Released |
| Platforms | Windows, macOS, Linux, Android |
| Release date | Apr 04, 2016 |
| Rating | |
| Author | GourmetVisual |
| Genre | Visual Novel |
| Made with | Ren'Py |
| Tags | Casual, Comedy, Cute, Female Protagonist, Funny, Multiple Endings, Otome, renpy, Romance |
| Average session | A few hours |
| Languages | English |
| Inputs | Keyboard, Mouse |
| Links | Support |
Install instructions
If you have a mac:
To play games from unidentified developers, go to System Preverences - Security and Privacy - General, then click Allow apps downloaded from 'anywhere'. Make sure to switch it back later!